Vancouuuuuver
I had a fun Canada/Cannabis day yesterday =) Sammy and I met up and headed downtown together after she got off work. We hung out by ourselves for awhile at the Vancouver Art Gallery with a crowd of a couple hundred or so ... definitley not as many as 4/20 but I kinda like it that way - I hate a crowd of wayyyy too many people. Twas nice. Some girl that had been sitting beside us the whole time got up and randomly streaked thru the Water Fountain - I have pictures =) Will post them in this entry ... and then we met up with Steve and Cam and some other people .. Paul is away camping this weekend. We aren't fighting anymore by the way ... well at least I think we aren't.
Anyheezies, here's some pics from Friday night (ladies night with Nikki and Sam) ... and Saturday July 1st aka Canada day!! =)
It was my last day of school on Friday ... well technically. I have to go back for some gay 'Job Search' course next week just because I'm not yet employed full time. But it was the last day of the ECE course on Friday ... so I finally got to smoke a joint with my friend Megan from school! That was so fun - I dunno why we never did it earlier. And went to the beach with her and Sara from school also afterwards =) Ahh it was awesome - I'm gunna miss seeing those girls everyday!
Me and Megs shmokin' in Sara's car
Sara should be in porn - that's her and some air gun @ her boyfriend's bodyshop. Those guys were weird ...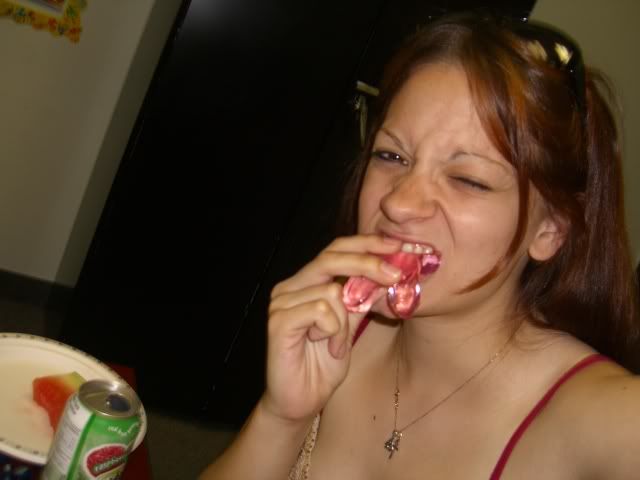 Me eating a jello bear at school.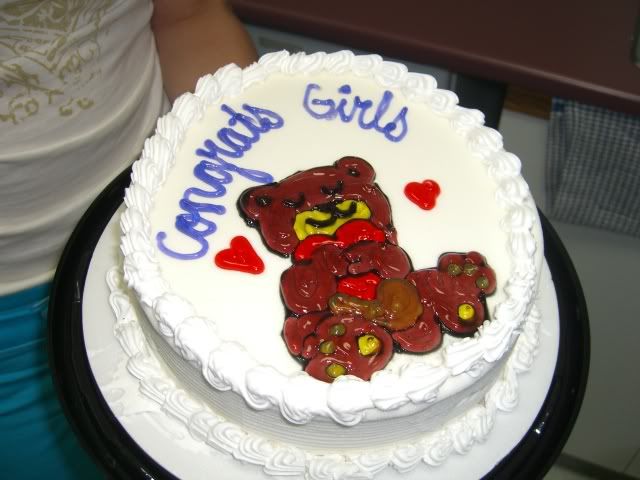 The icecream cake Sara got for the class. Hahah. So good.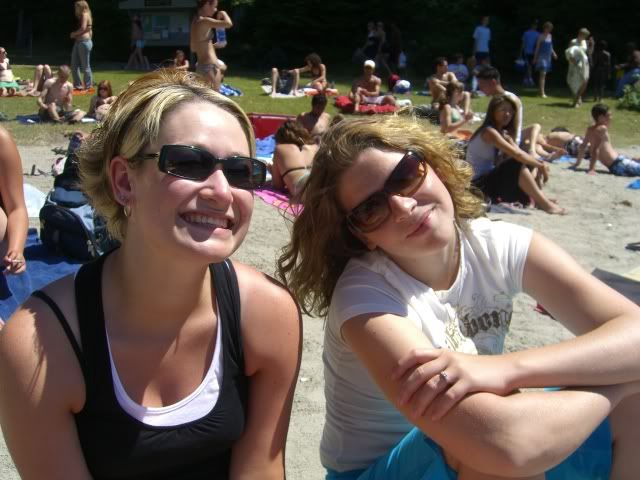 Megs and Sara @ White Pine Beach
Me and Meggy poo @ the beach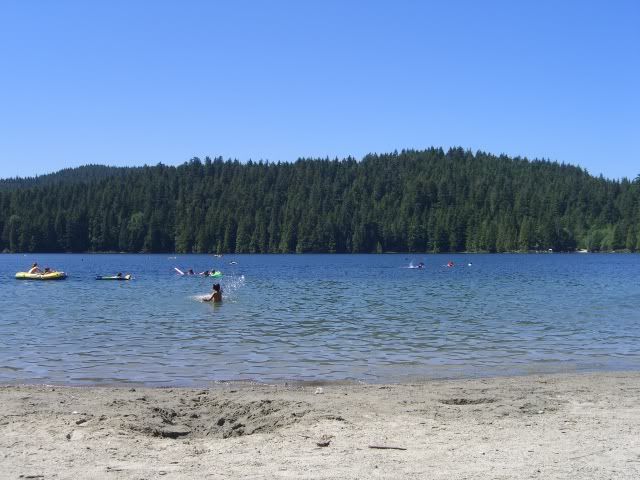 The lovely scenery ... ahh ... it was beautiful.
Later that nite ... <33
Sammy and I went out to Metrotown to do some shopping ... and shmokin. =)
Me moo outside Metrotown ...
Me and Sammoo
Trippy accidental picture. I love it.
We then travelled to Central City to buy some liqour ... then back to my house to consume it.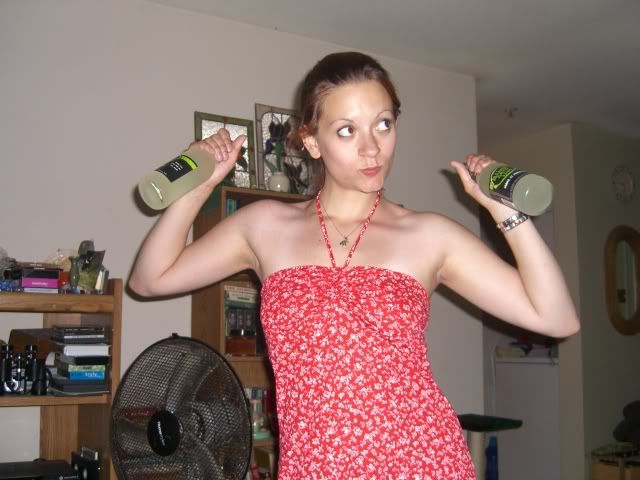 Yeahhh I love being a light weight. I also love the new dress I bought. Weeeeeeee!
Me trying to make ice tea for the long island's I was craving. It was really hard.
We watched episodes of the OC all night and just laughed and yelled at the tv a lot and stuff. GOod times <33
Hahaha ... Sam <3's Trey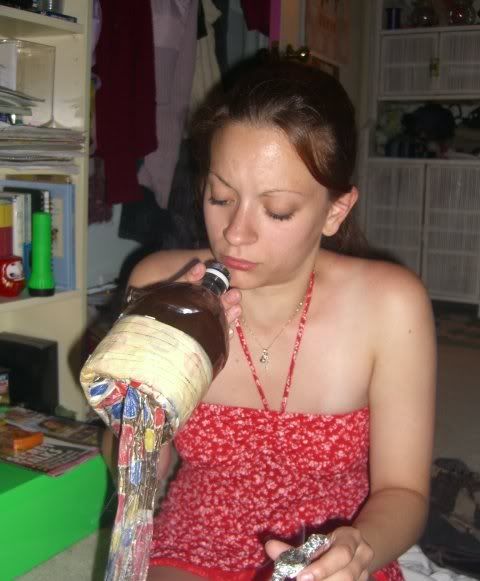 The usual.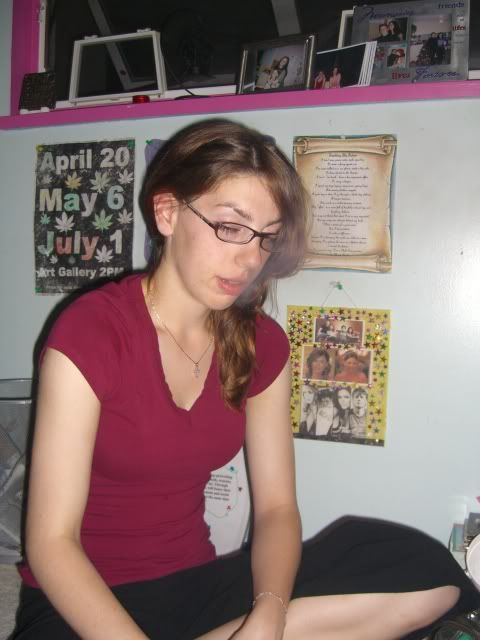 Sam <3
I finally got those Long Islands out on the table!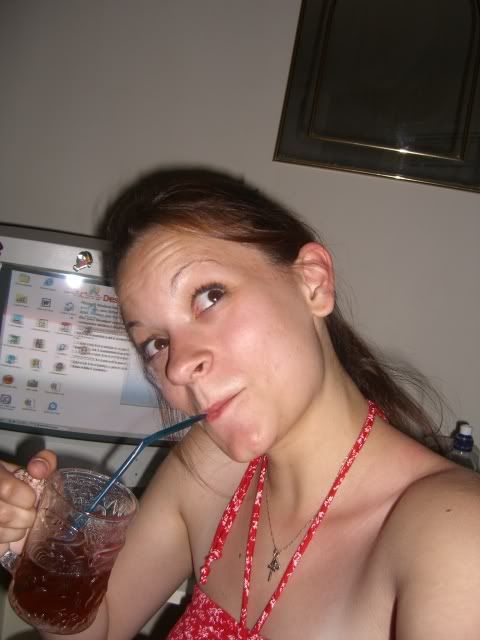 No more photo's after that ... I think we 'fell asleep'.
CANADA / CANNABIS DAY!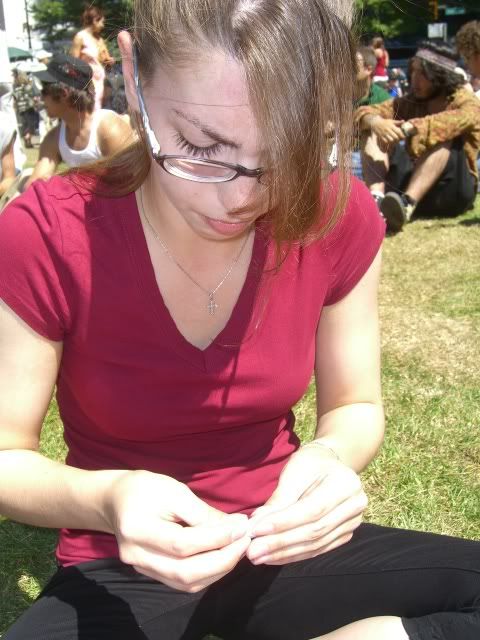 Sammy rolling a dewber.
Yayyyyyyyyy for me !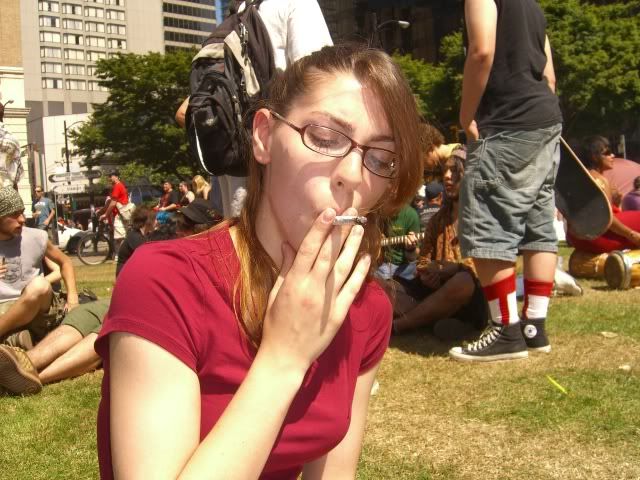 Sammy again
THE STREAKER! Hehe. She had an amazing tan.
I shoulda zoomed in! It all happened way too quick.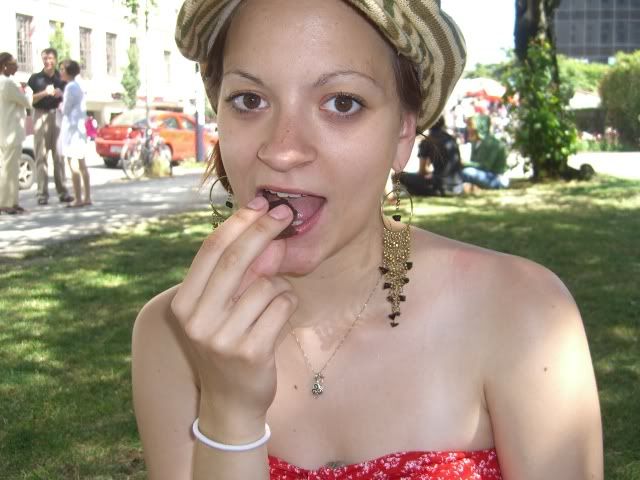 Me and the pot brownie<3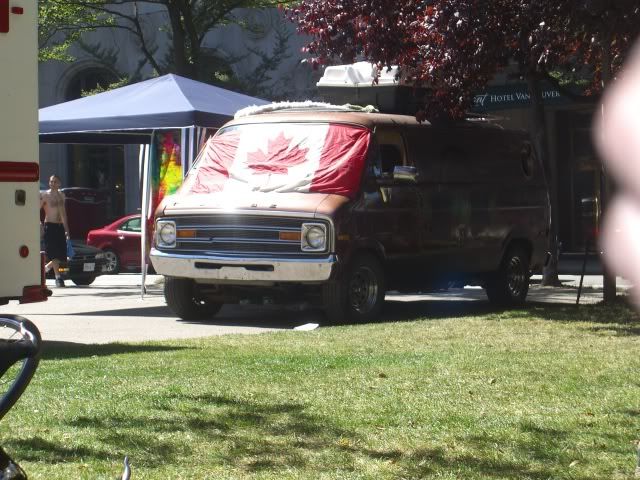 Yay for vans with Canadian flags on 'em.
Yay for Steve with an 'L' on his forehead
Thankgod somebody brought a fuckin' pipe.
Cam, and moi.
Me and Sam ... stonered.
Smile! You're stoned!
K can we go now? (That dam pot brownie made my tummy hurt a bit so we headed towards Burrard after 4:20.)
The crowd got bigger near the end ...
Me in the MCdonalds bathroom - yay for peeing!
After that, they went to English Bay, and I headed home - I needed to rest. Hahah... that pot brownie made me sooo lazy and tired. I got home around 6pm and fell asleep at 7:30 pm - waking up finally this morning around 7:00am. Hahah. Dope. Well hope you enjoyed all that - and if the girl who was in the nudie's somehow sees these and doesn't like 'em , just ask and I'll take your nekkid bum off the internet.
Comments {0}